The War and Peace show 2004
By Doctor Jeep
The war and peace show
is an annual event for military vehicle enthusiasts, and re-enactors. What this means is a whole bunch of dangerously drunken individuals wandering round in silly hats and driving tanks.
Four GD clan members went to the show, to spend 3 days camping and drinking in the glorious English countryside. The four members attending were Helmut Krasch, Deathwalker, Von Shtinkel and Doctor Jeep ... we are hoping that maybe next year there will be more.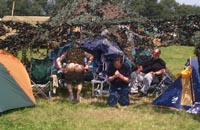 We had got some camo netting from some cheap old dodgy website, and this we sort of put up in a canopy over our besieged kessel. I don't think the camo would fool anyone, but judging by our repeated failure to find our campsite after a few beers perhaps it was more effective than I thought. Either that or we were just plain stupid.
Kamp Dachshund had its own flag made by Von Shtinkel. Flying high from the central camo-net pole it was visible clear across the camping area ... interestingly no-one was curious enough to ask what it meant. I guess they thought we were die-hard re-enactors and the dog logo was something to do with some obscure elite unit or something. From a distance the camp looked rather smart ... closer inspection would have revealed a bizarre construction of cable-ties and bamboo. but it worked, and only fell down once (although at one point the wind gusted the camo onto the cooker and the bloody thing started burning).
There are a lot of people there who take it all jolly seriously. You can see the SS re-enactors stomping about the place in their jackboots and armbands ... can someone please tell them how dreadfully silly they look? My idea initially was for us to get white lab-coats and do a "scientific experiments" re-enactment ... Von Shtinkel's idea was much better ...
pirates!
We were going to form a "pirate re-enactment" society, so we asked all the militaria dealers whether they had any pirate gear ... cannons, sabres, all that stuff. We'd take it in turns to "pirate" a stall, with each of us making a request based loosely on a pirate theme. Next year maybe some of these dealers will be bringing along some swashbuckling re-enactment gear in the hope of making a killing.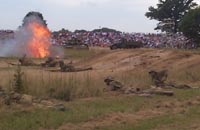 On the saturday night we re-enacted the chaotic retreats of the wehrmacht in spring 45. We all decided a little early in the day to get drunk, and by the time we went to the beer tent we were wasted. There was some crap band playing "classic hits" while a hall full of GIs and nazis got down and boogied to their favourite 1970s cheese. Truly surreal. Von Shtinkel disappeared half way to visit another kamp, leaving the last three of us to amble our way home. We ourselves split up when I realised that we were all following Helmut and he was as bewildered as anyone else. I called out but they just continued on walking, so I tried to retrace my steps. Not entirely successfully however as it was pitch black and I had been reduced by alcohol to the state of a deranged monkey. Landing myself in the drainage ditch waist-high in water was of course rather sobering. as was the realisation that the only way out of this watery hell was a clamber up a high back absolutely infested with stinging nettles. That indeed was a very lonely moment.
I arrived back at the camp first, to change my clothes and dress my wounds. Needless to say I was very grouchy and when Helmut and deathwalker turned up I proceeded to blame them for me falling in the river. then I went to bed.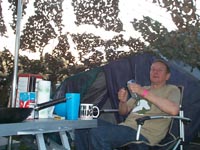 Von Shtinkel was in a worse state than any of us, and woke up the next morning with vomit everywhere, his mattress mysteriously deflated and his legs mysteriously half out of the tent. None of us have any recollection of what he got up to in there, but it must have been nasty.
Sunday we actually got around to viewing some of the re-enactments and it they were really really good. they had all sorts of tanks and explosions and stuff. heh, those blank firing 50 cals make a hell of a noise. I was quite traumatised.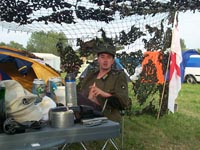 So, all in all a great time was had by all ... maybe we'll be seeing some more clan members turn up next year!