Wolf tips
OtherStuff
Multiplayer maps
Quick, get a medic, the GD is in town!

yes, its true. Armed with special laser guided panzerfausts for those special teamkilling moments, the GD clan can now actively participate in a whole new flavour of electronic genocide.

We have yet to set up a clan night for Wolf, but you can see all these idiots asking for ammo at a zombie infested train depot near you ...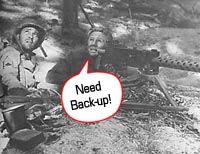 Doctor Jeep
Valkyrie
De Warrenne
CFE
Edpow
Oddball
Whittman
Bruhv-ahh
Pain Master


and proudly introducing ... BitchSlap, Spud, Penelope, Herr Brush and S Vegas!
and probably some others i have forgotten about.